ZettaScale Newsletter – January 2023
We're thrilled to introduce you to our monthly ZettaScale newsletter!

We've gathered a cool community of open-minded people from across different industries (robotics, transport, defence, medical, etc.) and once a month, we'll send you the latest news from our team of Zettlers, the cool projects we're involved in and from the tech industry.

To keep it fun, we'll also introduce our talented team of Zettlers (some of them are musicians, others love to scuba dive, etc.) and in the next monthly newsletter, we'll add an adventure comic and share our favourite podcast episodes.

If you want to get in touch with our team directly, join our community on Discord for Zenoh or Cyclone DDS.

The thing we're really looking forward to sharing with you today is our Community Kick-Off on Thursday and our newest version of Zenoh, so let's dive right into it
You're invited to our Community Kick-Off!
This Thursday, we'll be Live on our Youtube channel and we'd love to see you there! It will be a 30 minutes live stream with the most senior Zettlers who will talk about what's to come in 2023. Here's the agenda for the day:
Angelo Corsaro, CEO & CTO of ZettaScale, will introduce you to our company and he'll also close the event
Karolina Szymanska, Marketing Lead, will talk a little about where you can meet our team of experts in the first few months of 2023
Luca Cominardi, Product Conductor for Zenoh, will talk about the new Zenoh Charmander and what new features requested by the community you'll see in 2023
Erik Boasson, Product Conductor for Cyclone DDS, will present the road map for Cyclone DDS and what our users can expect to see in 2023
You'll have the chance to interact live with our team and ask questions. We'll send you a reminder email on Thursday morning. See you soon!

We released a new version of Zenoh!
Zenoh Charmander introduces several long-awaited functionalities requested by our community in 2022. We want to say a big THANK YOU to all our users and clients who got in touch with feedback and who are constantly helping us develop the best version of Zenoh.
You can read about the features we implemented on our website and Luca Cominardi, our Product Conductor for Zenoh, will be present at our Community Kick-Off on Thursday to talk about the features that are in the pipeline for 2023.

Learn about Zenoh directly from the team who created it
We released a new series of webinars to talk about Zenoh, our dragon, the next-generation protocol that unifies data at rest, data in movement and computations from data centres, but also for micro-controllers. It's available on our Youtube channel and you can see a preview below.
How to start on Zenoh
In this webinar, Luca Cominardi, our Product Conductor, talks about Zenoh capabilities and features and explains how you can get started with Zenoh.
Robot world with Zenoh
Julien Enoch, our Senior Solutions Architect, talks about how Zenoh can be used to swarm and teleoperate ROS and ROS2-based robots and give them access to our platform.
Introducing our Zettlers
Julien Enoch - Senior Solutions Architect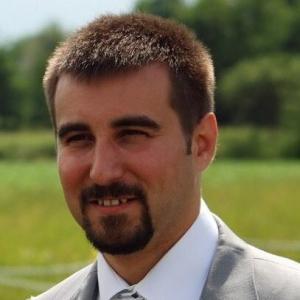 You might have noticed Julien on our social media channels lately as he hosted two "Taming the Dragon" webinars on Zenoh and also represented us at the Eclipse IoT Day in Grenoble, France.
We asked Julien to share 3 fun facts about himself ⬇️
I love to cook and one of my favourite dishes is my grandmother's traditional recipe for La Galette Au Fromage. It's a variation of the traditional Ardennes' Galette Au Sucre (sugar pie), but with Camembert and cream instead of sugar. You can see some pictures on Google here.
One of my hobbies is skiing in the Alps.
When I was younger, my family used to spend a part of the summer holiday travelling through Europe with our car and caravan. We visited Greece, Turkey, Croatia, Austria, Scotland and Scandinavia this way.
P.S.: I'm the go-to person for any questions about Zenoh, so send me an email at julien.e@zettascale.tech to find out how to get the best of Zenoh.
Come meet our team
If you're nearby, visit our team at:
FIRA 2023 (World Agriculture Robotics Summit) in Toulouse, France. You'll meet our colleagues: Luca Cominardi, Julien Enoch and Karolina Szymanska.
We'll also be present at the embedded world Exhibition & Conference in Nürnberg, Germany on 14 – 16 March 2023.
Do you want to get in touch?
Reply to this email to get in touch with one of our experts to set up a meeting. You can also join our community on Discord for Zenoh or Cyclone DDS and continue the conversation. See you there!
The ZettaScale Team