ZettaScale Newsletter – February 2023
We helped set a new World Autonomous-Racing Speed Record at CES 2023!

We began 2023 with fantastic news. Last year, the top two teams from CES used the latest ROS 2 Galactic featuring our Cyclone DDS and reached 173 mph. This year, more teams adopted our Cyclone DDS and set a new world speed record reaching 180 mph (289 km/h) with 100% open-source software!

You can see the entire race on Youtube and this article explains the key role played by our Cyclone DDS software.
So why choose Cyclone DDS for your devices or robots?
When we attended ROSCon 2022 in Kyoto, many people named Cyclone DDS their favourite Open OMG DDS implementation. With this in mind, our DDS team decided to share their two decades of DDS expertise with you in an upcoming webinar series and make the knowledge available to everyone.
We'll discuss how to get the best out of Cyclone DDS in five webinars. The topic of each webinar is detailed in this blog post and we'll cover the following:
7th of March: Cyclone DDS – The Origins

21st of March: Scalability in DDS: Dealing with large systems

4th of April: Reasons for Choosing Cyclone DDS Shared Memory

18th of April: ROS and CycloneDDS

2nd of May: When to use Cyclone DDS Pro
The first webinar will be hosted by DDS pioneers Angelo Corsaro (our CEO & CTO) and Erik Boasson (our DDS Head of Technology). Register below to attend live and tap into their DDS expertise.
P.S.: Since you're subscribed to our monthly newsletter, you're also the first to hear about our new Cyclone DDS Pro that will be launched soon!
The 1st Book Covering Zenoh & Cyclone DDS is Out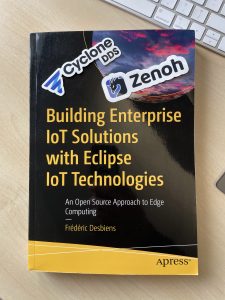 The author, Frédéric Desbiens, is one of our trusted partners from the Eclipse Foundation and he recently released this book which discusses the IoT technologies hosted at the foundation.
Our CEO, Angelo Corsaro, is a contributor and a technical reviewer for the book. Click the image to learn more.
This is hopefully the first of many books featuring Zenoh and Cyclone DDS!
Do you want to get in touch?
Subscribe to our newsletter below or get in touch with one of our experts to set up a meeting. You can also join our community on Discord for Zenoh or Cyclone DDS and continue the conversation. See you there!
P.S.: Our next newsletter will contain a comic, so keep your eyes on your inbox for March!
The ZettaScale Team