IoT Insights, Lessons, and Zenoh 
Every year, EclipseCon is a hub for open-source enthusiasts, and it serves as an invaluable opportunity for us to explore and share the latest insights, lessons, and discoveries in the IoT and software defined vehicles industry. 
Our ZettaScale team, including our CEO & CTO, Angelo Corsaro, Senior Solution Architects Ramzi Karoui and Phani Gangula, and Digital Marketing Specialist Daniela Nastase, recently attended EclipseCon 2023 in Ludwigsburg, Germany.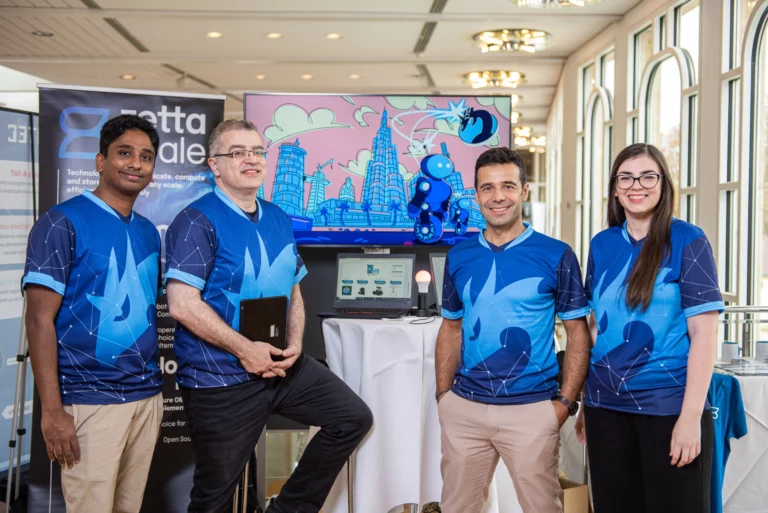 In a pre-event announcement, we shared our excitement about the upcoming EclipseCon 2023, setting the stage for this event that promised to be both informative and collaborative. Read the pre-event blog post on our website, ZettaScale x EclipseCon 2023.
Now, it's time to reflect on what happened, what we learned, and what could be improved from our experience at EclipseCon 2023.
Recap from EclipseCon 2023
First, let's start with a quick recap. If you missed our daily vlogs on LinkedIn, you can now see them on our YouTube channel. Daniela, Phani and Ramzi shared the highlights of each day in a few minutes-long videos. Take a look below.
Besides daily vlogs, we recorded a live podcast episode for our Zetta Radio. This live podcast proved to be a successful way to foster collaborations and make the EclipseCon community heard. Head to our Resources page to listen to it or click on your favourite platform below. This episode focuses on the open source technology used in software defined vehicles.
Insights from EclipseCon 2023
Our team actively engaged with the EclipseCon community, and here's what we noticed during the event:
1.Growing Contributor Engagement: The Eclipse IoT and SDV working groups have experienced a surge in open-source project contributions. The remarkable aspect of these groups lies in their blueprints, which combine these projects with actual use cases to tackle real-world problems. As part of this ongoing effort, we are also diligently working on improving the SDV Fleet Management blueprint by incorporating Eclipse Zenoh which is based upon on the Eclipse Kuksa project.
At ZettaScale, we aim to expand the capabilities of software-defined vehicles by improving V2X communication and bringing edge computing support through Zenoh. We hosted a live webinar earlier this year to discuss Zetta Auto and explain how Zenoh is integrated into AUTOSAR Classic, Adaptive and infotainment. You can watch it on our website.
2.Addressing the Challenges/Limitations: We noticed IoT users are facing increasing challenges when attempting to expand the use of protocols like MQTT and OPCUA. The main obstacle they encounter relates to performance issues inherent in these protocols, often causing significant slowdowns in specific edge-use scenarios. In the realm of Software-Defined Vehicles (SDV), up until now, no protocol has been able to provide the essential capabilities of dynamic network adaptability and decentralised storage mechanisms vital for effective V2X communication. Many users were happy to find these critical aspects addressed in Zenoh.
Zenoh is 100% written in RUST, one of the safest programming languages. In terms of performance, when compared with MQTT and DDS, Zenoh is a clear winner. This technical blog post from the National Taiwan University (NTU) goes through all the tests they did to determine which protocol performs best. 
3. Energy Efficiency Focus: Angelo's presentation on energy efficiency piqued people's interest. If you missed it, you can see his presentation slides along with a few other resources on LinkedIn. We discussed the hidden cost of energy communication before, and Zenoh is already a known resource for slashing the energy required to send data.
Learn More About Zenoh – Your Gateway to Thriving in Edge/IoT, Automotive and Robotics
Zenoh is open source, and you can download it and install it from our website. If you want to learn more, watch our webinars below.
Stay tuned for more insights, updates, and collaborations from ZettaScale. We're here to drive innovation, share knowledge, and make a difference in the world of open source technology.